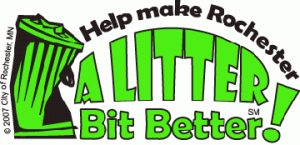 About A Litter Bit Better
At the beginning of 2007, two citizens came to Mayor Brede with the idea of building a "trash mountain". They were interested in getting community members involved in a city-wide litter clean up effort.
The Mayor brought a team of organizations together to plan and coordinate what would become aptly named, Help Make Rochester A Litter Bit Better!
During the week of April 21-28, over 1,384 volunteers city-wide scoured ditches, parks, and boulevards to pick up over 20,000 pounds of trash! Service groups, businesses, scout troops, faith groups, and 10 Neighborhood Associations registered and participated. And now it is an annual event in the City of Rochester.
You can read more about the first, recent, and upcoming litter pickup efforts in our News & Events page. Tips and a time line for how this successful litter pickup was organized can be found our our website. Photos from neighborhoods and groups who picked up Rochester can be seen in our photo gallery.

But litter doesn't only occur once a year. All of us working together can make a difference. Be a leader. Avoid the temptation of throwing trash or flicking that cigarette butt out your car window. Be sure to bag all of your trash before placing it in the garbage can and then make sure the lid is on tight. This prevents loose trash from blowing out of the haulers' truck, and into our streets and streams.
Resources for Kids
Resources for Adults
Posters
All of us together can pick it up and Make Rochester a Litter Bit Better!